---
Benefits and Features
Our Neck Massager is a pain relief tools that provide relaxation therapy. It simulates a real human massage to help relieve neck soreness, shoulder tension, body tension, and promote blood circulation.
Through low-voltage pulse technology, its neck massage with heat functions penetrate the skin to reach your pain points and ease the pain and tension around your neck area and spine.
15 levels of intensity to meet your needs, making this one of the best neck massagers on the market today.
Small, lightweight, and portable, this massager weighs in at just 0.3 lbs (160 g). Use it anytime and anywhere.
Rechargeable and cordless. Comes with a Micro USB cord for charging and a 450mAh battery. Once fully charged provides up to 4 hours or 16 sessions (15 minutes per session)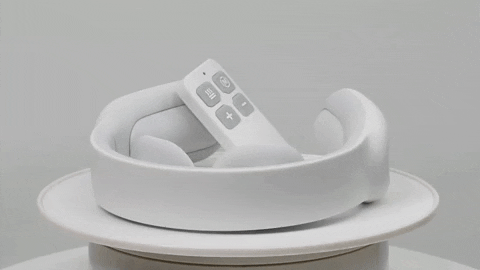 Choose your massage
Built-in 3 massage modes:
M1: Soothing Mode
M2: Active Mode
M3: Auto Mode
15 massage intensity levels, effortlessly adjust with remote control according to your demands.
Ergonomic wearing comfort
Skin-friendly silicone material can deliver smooth and soft touch feelings and 304 stainless steel electrode pads will perfectly fit your neck curve with gentle care.
Electric Therapy
Provides life-stimulation pulse massage to stimulate meridians and collaterals and improve muscle performance, effectively helping relieve pain and fatigue around your neck.
Constant Heating
Provides 42℃ warming treatment to improve blood circulation, soothe tired muscles and relieve aches thoroughly by pressing the middle button.
Package includes
1 x Neck Massager
1 x Remote Control (Battery included)
1 x USB Cable
1 x User Manual
This section doesn't currently include any content. Add content to this section using the sidebar.